Portable Storage Containers
Portable storage containers are weather-resistant receptacles meant to provide homeowners, tenants, small businesses, and even large corporations with a secure way to store excess belongings. Mobile storage is a convenient and affordable alternative to a conventional and stationary storage facility. Portable storage containers are often made from shipping containers. The units come in multiple sizes and configurations to meet your individual needs. Made of high-grade wood, heavy-duty steel, or reinforced fiberglass, these mobile storage containers provide a cost-effective way to secure business materials, excess construction equipment, and household goods.
Portable storage units are often used on commercial construction sites, during residential moves or remodel projects, and at places of business where the existing storage is not large enough to accommodate larger quantities of inventory. After you choose the correct portable storage container size for your requirements, the unit is delivered directly to your location for on-site loading and can then be stored on your property or at a secured warehouse. Quick Portable Storage helps you compare portable storage container pricing and find the unit that best suits your needs.
Choosing the Right Size Portable Storage Container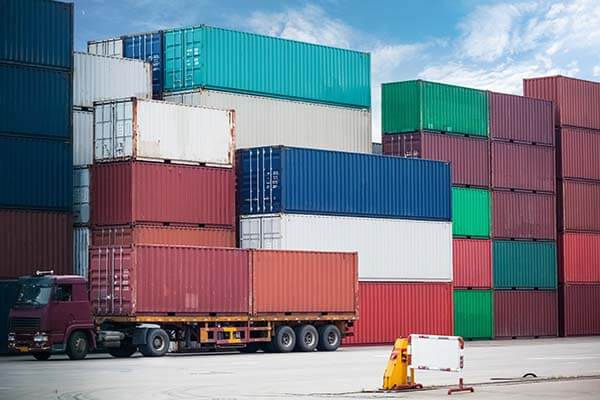 There are various sizes of portable storage containers on the market. While container dimensions range from as small as 5' wide and 7' long to 10' extra-wide units with a 40' length, the most common sizes are the 10', 20', and 40' mobile storage units with a width of 8 feet. Choose the right size portable storage container based on the size and quantity of items you need to store.
10' L x 8' W x 7' H - The 10' mobile storage container can hold the equivalent of two average rooms of furniture and goods. At just under 560 cubic feet, this type of unit is perfect for securing household goods during small remodel projects or storing excess inventory while prepping for seasonal sales.
20' L x 8' W x 8' H - At double the length of the smallest standard unit, this 20' portable storage container is large enough to maintain the files of a mid-sized company, or the entirety of the contents of a smaller home. A unit this size is often found on construction sites housing power tools, scaffolding, and other types of equipment.
40' L x 8' W x 8' 6" H - The largest standard size mobile storage unit is the 40' container. A modified shipping container, this large and spacious unit features enough room to secure the furnishings of a medium to large home. Larger businesses will find the 40' unit just right for storing excess materials, inventory, or maintenance equipment.
Average Portable Storage Container Rental Rates
The cost to rent a portable shipping container varies. Delivery fees to your location, transportation fees from your location to an off site warehouse, and the cost of optional modifications are not included in the average rental pricing listed below. You can expect an additional one-time delivery fee of $70 - $115 depending on the distance to your site.
| Self Storage Container Size | Monthly Rate (store at your site) | Monthly Rate (store at an off-site warehouse) |
| --- | --- | --- |
| 10 foot | $89.00 | 109.00 |
| 20 foot | $149.00 | $169.00 |
| 40 foot | $239.00 | $259.00 |
How to Obtain a Quote for a Portable Storage Container
The size of the container, the distance from the rental facility to your location, and the storage location of the unit will affect the final price of a portable storage container rental. Obtaining a quote for a portable storage container is easy with Quick Portable Storage. Simply click Get A Quote and provide us with a few details to quickly find out the exact cost of renting a portable storage container.
To give you the best price on a storage container rental, we will need to know which size unit you wish to rent, how many units you will need, how long you expect the rental period to last, and finally, your contact information so a representative can contact you with a quote. As soon as your quote request has been submitted, we will begin working hard to find you the best rates on portable shipping containers. You will then be contacted with pricing so you can compare quotes from some of the leading suppliers in the area.
Choosing Between Steel, Wood, and Fiberglass Storage Containers
Choosing the right type of storage container is particularly important when you are storing items of high-value, or items that are irreplaceable. While one type of unit may be just fine for storing landscaping tools, that same unit might not be the best choice for collector items. Portable storage containers are available in wood, steel, and fiberglass.
Wood - Mobile storage units made of wood are of high quality and work perfectly for storing items with the potential to be damaged by mold or mildew, as wood is naturally resistant to moisture build-up. Wooden portable storage containers are constructed with pressure-treated materials for strong, lasting construction. They are then wrapped with a weather-proof covering to further reduce the possibility of damaging rains and extreme weather.
Steel - Steel portable storage units are optimal for items of high value. The strong, steel construction is nearly impossible to penetrate, providing the maximum amount of security for your equipment or valuable furnishings. Steel units are also capable of holding a much larger amount of weight than a wooden storage container. 40' units are often constructed of steel.
Fiberglass - Fiberglass portable storage containers are optimal in situations where the unit will sit outdoors for an extended period of time. Fiberglass does not rust, peel, or become unsightly where other materials may after being exposed to changing weather conditions. Additionally, some fiberglass models can be easily customized will colors or logos to provide better curb appeal.
Consider the types of items you will be storing and the natural conditions in your storage location before deciding on a specific type of storage container.
Portable Storage Containers—Warehouse or On-Site?
The final decision you need to make is where you want your possessions stored. Storing on your own site is convenient and certainly cost-effective. However, on-site storage is not always possible. Perhaps your property presents storage limitations such as the available space, the access route to your desired storage location, or even your city's local ordinances. If these types of limitations are not present, then you may still choose to store off site if you do not need access to the stored items on a regular basis, or if the storage container would prevent you from being able to accomplish other tasks on your property.
Off site storage is a good option for anyone that does not have the room for a large container on their own property. For a small increase in the monthly rental fee, your unit is stored at a secured warehouse. This alternative can be an inconvenience for someone that needs regular access to the stored belongings, but is an overall excellent choice for many people.
Finding a portable storage container rental at an affordable price is easier than ever with Quick Portable Storage. We work hard to ensure you have access to the best rental rates on the market. Request a quote today!